To get your non-tradeable, non-sendable, and non-sellable Player Appreciation Day gift added to your dock:
Log into your account

Click the Things To Do menu

Select Today's Activities

Click the Player Appreciation Day gift
I knew that naughty Leprechaun was up to something! He stole a rainbow and now the Unicorns won't have enough rainbows to paint their Spring Celebration Eggs! That's why this month's Player Appreciation Day gift is so perfect – it's an adorable Rainbow Teapot!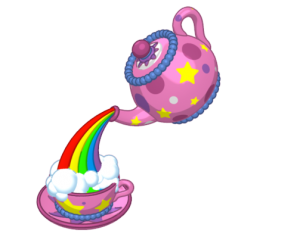 This 1×1 fountain is not tradeable, sendable, or sellable. To add it to your Webkinz account, log in to your Webkinz account and visit Today's Activities, which can be found in the Things To Do menu. Then click to collect your gift.
And look for more awesome Spring items at Ganz eStore!