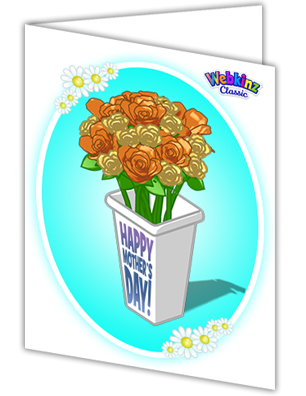 Sunday, May 9th is Mother's Day this year. Whether you're celebrating your own mother, or enjoying the day as a 'mother' to your family of Webkinz Classic pets, this sweet card is a wonderful way to show every mom just how much they are loved and appreciated!
This lovely printable card includes a Webkinz Classic community code for a free virtual item – a Mother's Day Vase. This beautiful vase can be rotated to show four view and works wonderfully with this year's new DIY items.

Plus look for more vases floating through Webkinz World on
This code can be redeemed by entering the code at the Code Shop, which you can find in the Things To Do menu in Webkinz Classic. The prize is limited to 1 code per account. The code expires on October 31, 2021 at midnight EST so be sure to to claim it before then.
Just print out your card on an 8.5 x 11″ sheet of paper. Fold along the center of the page horizontally and then along the center vertically.
And celebrate mom with this special gift!