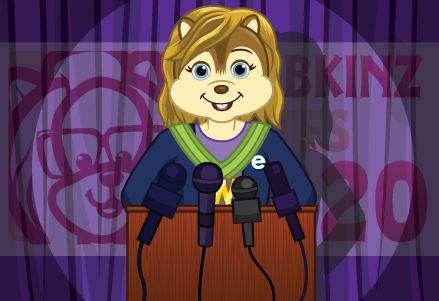 Citizens of Kinzville, the greatest honor of my life has been serving as your mayor for the past two years!
Re-elect Sophie Stockwell!
In 2018 I pledged to show the citizens of Kinzville how much I value you all by enacting a monthly Player Appreciation Day. Every month in 2019 and 2020 I have delivered on that promise and given our players a special gift from Ganz eStore! I hope you have enjoyed collecting these gifts as much as I've enjoying sharing them with you. In fact, our Player Appreciation Day has been so popular that I have decided to pass an order making Player Appreciation Day a permanent feature in Webkinz – even if I don't win this year's election!
Re-elect Sophie Stockwell!
Of course, as mayor, I will never stop trying to make Kinzville a better place for everyone! That's why I'm proud to announce my platform for term two.
Re-elect Sophie Stockwell!
Should I be so fortunate as to earn your vote for a second term I pledge to make recess more accessible to our hardworking students! Recreation and fun are a big part of learning. I promise to work with Kinzville Academy to offer recess – and the chance to play fun games and earn cool prizes – down to every 10th day of classes, instead of the current 15th day! Because fab prizes and fun games is what I am all about!
Re-elect Sophie Stockwell!
If you elect me on November 28th & 29th, I promise to continue to work hard to make Kinzville fun and fabulous for everyone. I hope I can count on your vote!
Re-elect Sophie Stockwell!
Still fab. Still fun. Sophie!

Re-elect Sophie Stockwell!
And don't forget to visit me in the Park every day between November 4 and 9 to receive a special Webkinz Votes 2020 gift box that contains one of three prizes: A campaign hat, plushy or sign (limited to one gift per day).