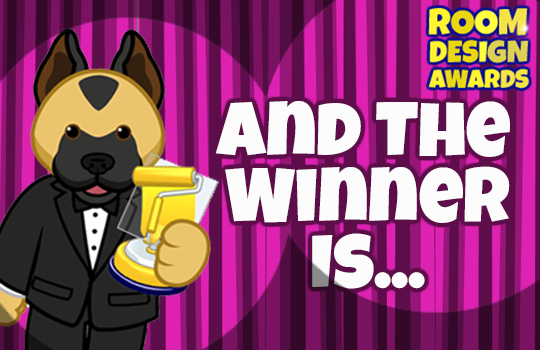 The Webkinz Newz community had the opportunity to vote for their favorite room design over the weekend and the results are in! Congratulations to all 22 finalists. Everyone did a fantastic job and I hope that players will keep sending me their room designs because we will be continuing this Room Design series of posts on Webkinz Newz. Who knows, you may become a finalist for our next Room Design Awards!
As I mentioned in a previous post, 7 winners will receive a Room Design Trophy. Click on each button below to find out who won:




If you have been selected as a winner, please check your inbox from an email from the Webkinz Social Media Team with information on how to get your trophy.
Thanks again to Nattie and acoolaunt for being our special guest judges and stay tuned for more webkinz room designs coming soon!
Want to send us screenshots of some of your favorite rooms? E-mail them to me at letsbuild@ganz.com. Who knows, you might see them in our next Webkinz Room Design video!