Log in to Webkinz Classic daily to claim Kinzville Academy themed prizes for your pets, and complete the Super School Challenge to earn even more prizes!
From August 19 – September 9, you'll receive a prize every day, just by logging in to your Webkinz Classic account. Here's a look at the schedule: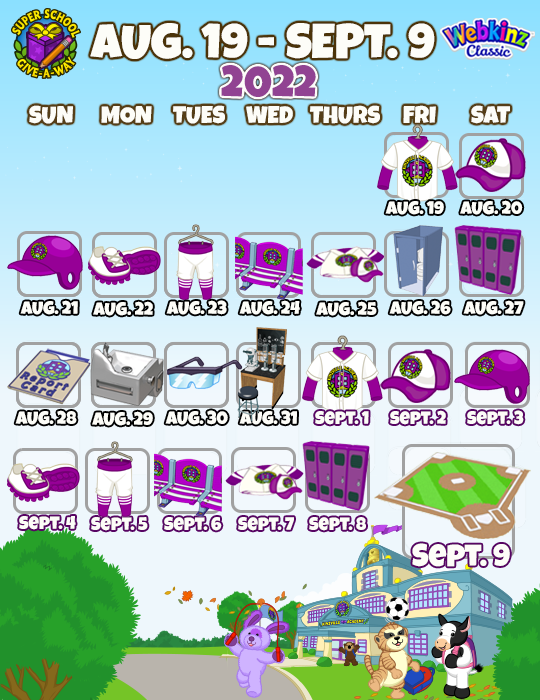 Your daily prize will be automatically added to your Dock as soon as you log in.
Is your pet a straight-A student? Find out by playing the Super School Giveaway Challenge! This two part challenge will only be available from from August 19 – September 9, but players who manage to complete it, will win a brand new Buddy Bench and Classroom Aquarium, as well as a Math Poster and Homework Floortile: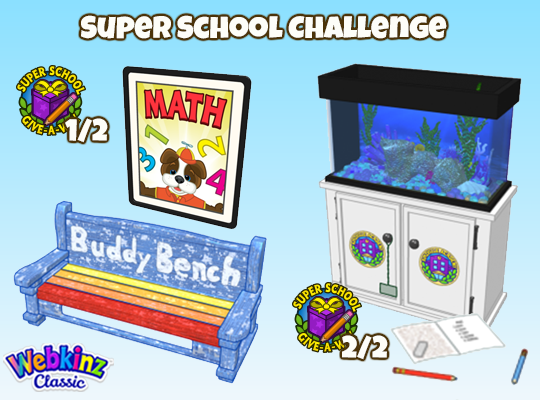 Don't leave your challenge to the last minute, because some tasks take time to complete. Here a sneak peek at this year's tasks:
Super School Challenge PART 1:
Sign up your pet for any 6 classes at the Kinzville Academy
Earn 30 KinzCash playing Booger Gets An A
Spin the Wheel of WOW 2 times
Super School Challenge PART 2:
Buy an Apple from the WShop
Play Jumbleberry Fields 2 times
Sign up your pet for 6 more classes at the Kinzville Academy
What's your favorite class at the Kinzville Academy? Let us know in the comment section below…