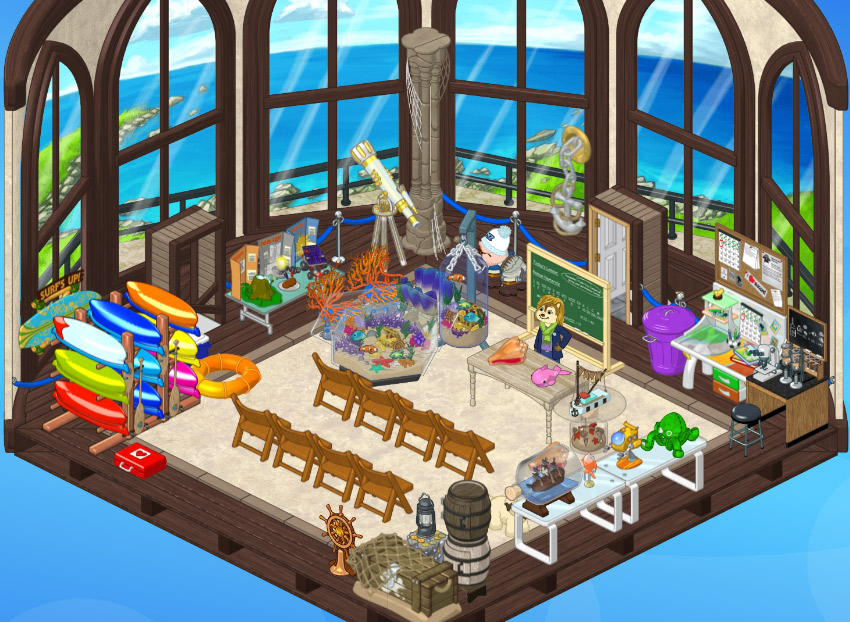 Hey guys! Mandy Webkinz here with a special report on Sophie Stockwell visiting Campkinz!
I was so excited this week when my friend Sophie invited me to help her get ready for her visit to Campkinz! Sophie works hard at Ganz eStore, but one of her favorite things about her job is getting to help take care of all the fish at eStore. Sophie has always had an interest in marine biology and this year she is sharing it with campers as a visiting counsellor. Sophie will be helping campers learn to spot Lil' Fish. From July 4 to 31, Lil' Fish will be floating through Webkinz Newz and Webkinz World.
Sophie asked me to help her get set up. She found an awesome unused space in a Lighthouse that made the perfect spot. Lighthouse wallpaper and flooring are available from eStore. Sophie has collected some cool samples over the years that she wanted to show off in this room. There are a few pieces from Sheldon's Souvenir Shack on Vacation Island. She's also collected some beautiful glass tables that let campers see fish up close, as well as a lovely coral couch and clam seat!
Of course there are work stations where campers will be able to study samples of shells and artefacts they collect.
Of course, if you're serious about marine biology, then boating is important. Sophie is storing canoes for the campers to take out on their search. Don't forget to always wear a life jacket!
I think we're just about done and Sophie is ready to start helping campers spot those fish! Let us know in the comments what you think of the room we set up and if you see a Lil' Fish in Webkinz Newz or Webkinz World, let us know in the comments what you won!