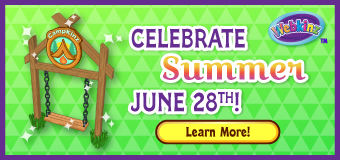 It's the day you've been waiting for! June 28 is Summer Sensation in Webkinz World! Every year we celebrate summer by giving our members an awesome summer item when they log into their account! This year we're giving away this adorable CampKinz Sign Swing that you can place in your yard for your pets to play on.
You'll also receive a free spin on the Superwheel.
Plus today only we're holding a Twitter contest where we are giving away 15 exclusive Floating Dock Slides, coutesy of Ganz eStore.  You must have a valid Twitter account to enter.
So remember to log into Webkinz World today – June 28 – to find this fun swing waiting for you in your dock and get your free spin on the Superwheel!