Hello Kinzville! Today marks another update in Webkinz World and I'm here to talk about what's new!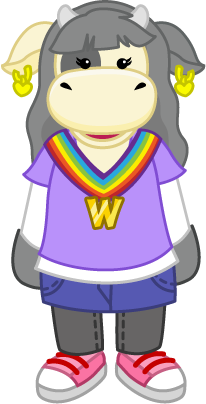 As I announced yesterday, I will be resigning as Mayor of Kinzville at the end of the year and so I have called an election for the citizens of Kinzville to choose a new mayor. Meet the candidates at the Kinzville Park from November 2nd to 29th, get a free gift, and learn more about each of their platforms! Most importantly: visit Webkinz Newz on November 30th to vote!
Introducing the NEW KinzPost! This improved section of Webkinz World will make sending & receiving notes, gifts and postcards even more amazing! Stay tuned to Webkinz Newz to learn more about this exciting new update!
Love those party prizes! We've added 3 NEW prizes to party Loot Bags! Next time you open one, there's a chance you might find a Blanche Plushy, some Shiny Party Balloons, or a Party Snow Globe inside! To make room, we've retired the Party Pop, Spring Jellybeans, and the Cotton Candy.
Visit Today's Activities from November 11th to 18th and get bonus plays for all sorts of fun stuff during our latest Webkinz Days of Play!
Visit Webkinz from November 19th to 27th for the Fall Shopping Spree! Just log in to Webkinz World on or the Webkinz mobile app to receive a daily prize from our 2016 Fall Clothing Line!
Speaking of sprees, look for floating SPREE dice from November 19th to 27th! Click on them to get a bonus roll for your next game of SPREE at the arcade.
Our next Deluxe Day is on Sunday, November 20th! When Deluxe Members visit Today's Activities on that day, they'll get a Mysterious Fossil, along with lots of fun extra activities to enjoy!
Keep spinning those wheels! We've also once again updated the prizes on the Wheel of Wow for web and mobile, along with the Wheel of Deluxe!
We've also fixed more features and items! To see all of the items we've fixed each week, you can check out our list by clicking here.


Mayor of Kinzville