Hello Kinzville! Today marks another update in Webkinz World and I'm here to talk about what's new!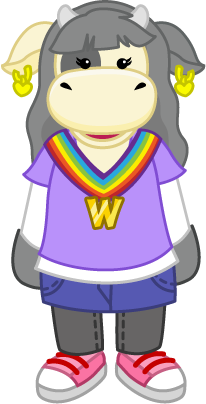 As many of you already know, we held an election for a new Mayor of Kinzville on November 30th, and the citizens of Kinzville chose Dr. Quack! I'm so pleased to be handing over my duties to him starting in the New Year. I'm sure it will be a new era of continued prosperity for everyone!
The Countdown to Christmas has begun! Visit Ms. Birdy in the Santakinz room at the Clubhouse each day (up to and including Christmas) for special holiday-themed prizes!
While you're visiting Ms. Birdy, don't forget to make your Christmas Day gift wish! Have your pet tell Santakinz which gift you'd like to receive! Not only will you get a free candy cane, you'll also get a KinzPost with cute photo of your pet on Santakinz's knee!
Don't forget to log in to Webkinz World on Christmas Day to get your Christmas gift, your last Countdown to Christmas prize from Ms. Birdy, and a spin on the Super Wheel on the Today's Activities schedule!
Our latest Candy Cane Collection event continues throughout December! Visit the Map of Kinzville from December 1st – 31st and click on the collection icon to start asking friends for candy canes! You'll earn 5 new gingerbread-themed furniture and decoration prizes!
Voted on by the fans, our new Countryside Christmas room theme will be leaving the WShop on January 1st! Pick up this versatile indoor/outdoor holiday theme before the end of the month!
If you have the Webkinz mobile app, don't forget to pick up our classic Home for the Holidays theme! You'll find this happy holiday theme in the Mobile Zone until the end of December!
Looking to top off your pet's holiday look? There are 3 NEW Santakinz hats available at the KinzStyle Outlet and on the Webkinz mobile app until January 10th!
Visit WebkinzNewz.com every day until December 25th for our Christmas Advent Calendar! Each day you'll receive a classic holiday prize!
If you've adopted a Reindeer, make sure you visit Today's Activities on Christmas Day to get a special prize for them: a Countryside Christmas Stable! Also, don't miss our Reindeer Games scheduled on Today's Activities, running each day until the end of the month!
Hanukkah begins on the evening of December 24th! If you celebrate the holiday, pick up one of our Menorahs in the WShop, available until January 2nd!
There's never been a better time to GO DELUXE! In addition to the monthly exclusive piece of clothing, you'll also be able to choose items from the Deluxe-only "It's Fun To Be Young" theme! The clothing prize for January is a Fabulous Flapper Dress!
Our next Deluxe Day is Thursday, December 15th! Deluxe Members will be able to visit Today's Activities for a full day of fun, including a special prize: an Arctic Architecture Window!
If you sign up or renew your 1 year Membership in 2017, you'll receive many benefits, including our latest Annual Deluxe Prize—voted on by YOU, the fans— a Jungle Zipline!
There's also a new challenge for Deluxe Members coming in January! When you complete all the tasks, you'll win a Winterfest Bouncy Castle!
Speaking of Winterfest, our popular winter event begins on January 1st! There's a new Winterfest Challenge for 2017, and watch for floating snowflakes January 1st – 10th! Click on the snowflake to win 1 of 12 random NEW Winterfest prizes!
There are also new Winterfest Cookie packs coming in 2017! Pick up a 3-pack or 6-pack of cookies at the WShop or the Ganz eStore to feed to your pet! This year, these cookies will award a unique set of prizes that go together with the Winterfest snowflake items!
Our Plush-A-Day Giveaway returns in January! Stay tuned to Webkinz Newz in January for more information.
Keep spinning those wheels! We've once again updated the prizes on the Wheel of Wow for web and mobile, along with the Wheel of Deluxe!
We've also fixed more features and items! To see all of the items we've fixed each week, you can check out our list by clicking here.
Well, this will be my last update announcement as your Mayor. It's been an honor keeping you updated on all the exciting news and events happening in Kinzville.
As always, I hope you have a wonderful time in Webkinz World!


Mayor of Kinzville