Hello there, it's me again—your mayor, Dr. Quack! I'm pleased to tell you about all the new and exciting things we have planned in Webkinz Classic for the next few weeks! Let's have a look, shall we?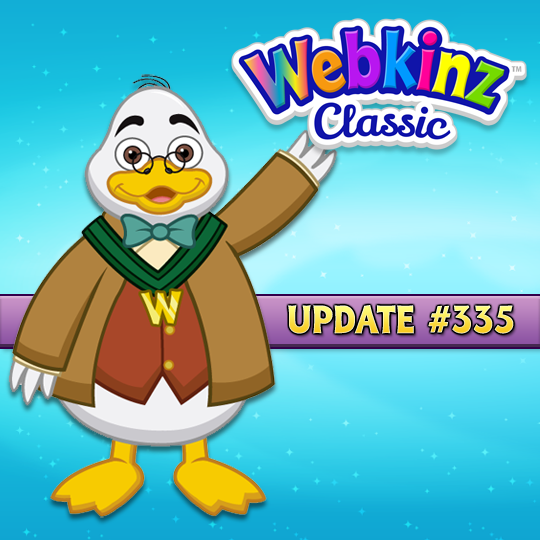 The second half of the Starlight Treehouse theme is now available in the WShop! This new KinzCash theme was the winning entry by furrythedog1 for our latest fan design contest! Now you can complete your Starlight Treehouse room design!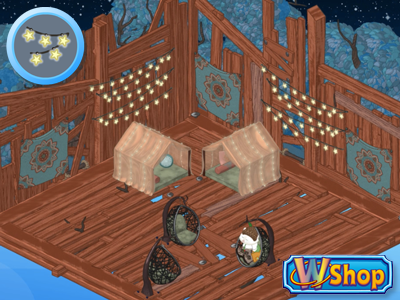 As mentioned in our earlier Newz story, we have added some new berry-themed plush bears and wigs to the Jumbleberry Fields jam jar prizes! The next time you fill up a specific jam jar, you'll be able to pick one of these new prizes! To make room for the new prizes, we've retired the Bundle of Moonberries, the Sugarberry Wall Clock, the Country Kitchen Wallpaper, and the Country Kitchen Window.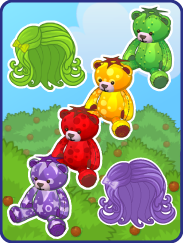 Come meet me, the Mayor of Kinzville, in the Kinzville Park from Monday, June 6th, until Sunday, June 12th! Each day I'll be giving out a gift box containing a random prize! This time the prizes include a few returning favorites, along with a NEW Tabletop Microphone, and a Signed Mayor Dr. Quack Action Figure. Hope to see you there!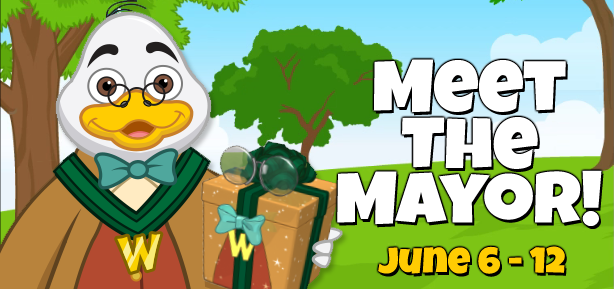 Our next Player Appreciation Day on Webkinz Classic AND Webkinz Next is on Thursday, June 16th! On that day, log in to your Webkinz Classic account on the desktop app and then visit the Today's Activities schedule to click on and receive your special prize for June: A Black Eyed Susan Gift Box containing 5 Black Eyed Susan Tiles! On Webkinz Next, look for the prize notification in your Message Center at the top right corner of the screen. PLEASE NOTE: This prize CAN be sent, sold, and traded on Webkinz Classic.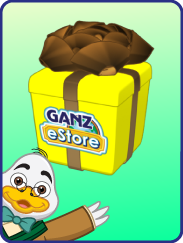 We're running another Wacky Weekend event from Friday, June 17th, until Sunday, June 19th! This weekend's event will award the Master Blaster 600 Trophy each time you hit Wacky 600 feet or further playing the Webkinz Classic Wacky Zingoz arcade game!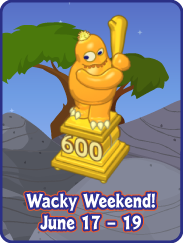 We are once again running our annual Berry Fest event from Monday, June 20th, until Thursday, June 30th! Look for floating berries to appear across Webkinz Classic, and then click on one to collect. When you feed your pet a Goo-Goo Berry or a Polarberry, you'll receive a beautiful berry-themed prize! Keep watching Webkinz Newz for a sneak peek at what you can win!
Also during Berry Fest, we are re-running the Jumbleberry Fields Trophy Challenge! Starting Monday, June 20th, complete all the tasks before midnight, EST on Thursday, June 20th, and you'll win a Jumbleberry Fields Trophy, along with a NEW Berry Fest 2022 Poster!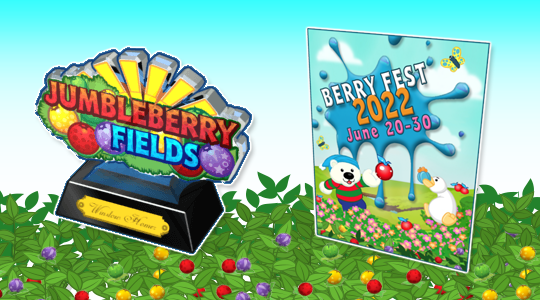 Right after Berry Fest is Summer Sensation! Log in to your Webkinz Classic account on Tuesday, June 28th to receive this year's special prize: a Unicorn Wading Pool! Also remember to visit the Today's Activities schedule on the Webkinz Classic desktop app for a spin of the Super Wheel!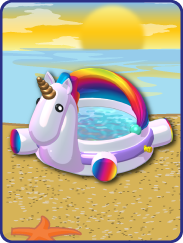 Hey, arcade enthusiasts! We are running the Tile Towers Arcade Challenge from Monday, June 27th, until Sunday, July 10th! Complete all the tasks before midnight, EST on July 10th, and you'll win a Hiker's Backpack, along with a NEW Tile Towers Clay Pot!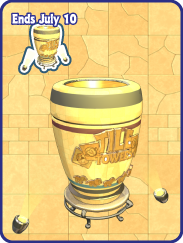 Look for the Fruity Licorice Candy Tree in the Webkinz Classic Kinzville Park on June 18th and 19th! Collect Fruity Filled Licorice once each day, and if your pet really loves licorice, you can pick up your own Fruity Licorice Candy Tree from the Ganz eStore!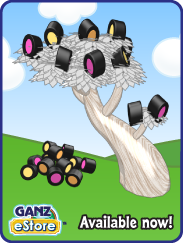 Our next Deluxe Day is on Saturday, June 25th! When the day arrives, just visit the Today's Activities schedule on the Webkinz Classic desktop app to get your special prize for June: A Rocky Waterfall Slide!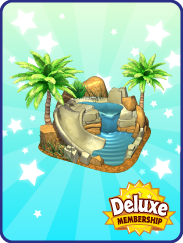 Our June Employee of the Month Challenge is on NOW! Available only on the Webkinz Classic desktop app, complete all the tasks before midnight Thursday, May 30th (EST) to win prizes for your Webkinz baby: a Baby Diaper, a Baby Soother, and a NEW Baby-Sitter Stroller!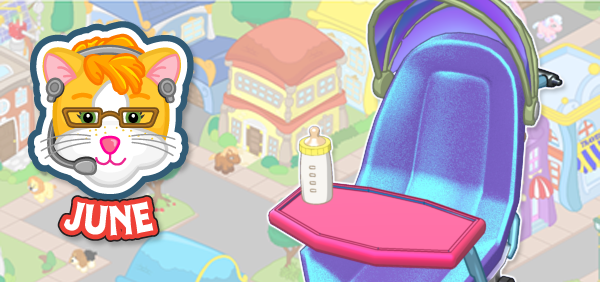 In June, Deluxe Members will receive their monthly gift box containing a Deluxe Medallion Gift Box filled with pet medallions, a Retro Rainbow Theme Gift Box which you can use to choose an item from the NEW Retro Rainbow room theme, a Wish Token—and of course—the month's special clothing prize: a Neo Gothic Tiara!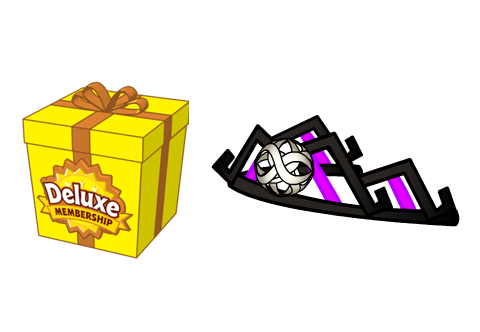 The Deluxe monthly challenge for June starts TODAY! If Deluxe Members complete all the tasks before the end of June, they'll receive a Rescue Team Hat and jacket along with a NEW Rescue Team Chopper!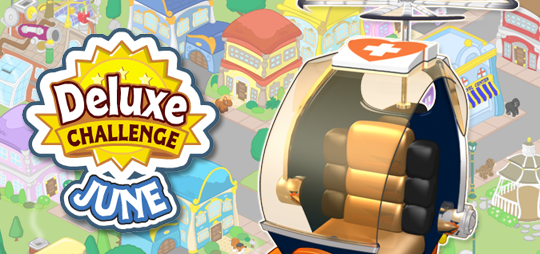 We are also running another Bake Sale 3 event in the Webkinz Classic Kinzville Park starting TODAY. The Bake Sale 3 Stand will continue to appear whenever there are no other events on in the Kinzville Park until June 30th! Visit the Kinzville Park each day to look for the stand each day and if you see it, click on it to get your gift box. Inside you'll find a random baked good which you can either feed to your pet, or you can use it in a stove recipe to create a special prize! You can find all the recipes in the Bake Sale 3 Cookbook, available in the "Books" section of the WShop, under "Fun Stuff".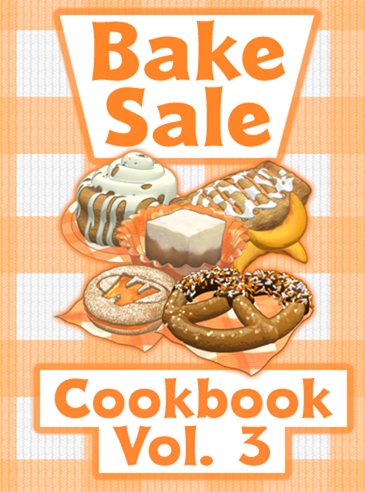 Once again, we've updated the prizes on our daily wheels! Check out everything you can win on the Wheel of Wow, the mobile Wheel of Wow, the Wheel of Deluxe, and the Vacation Wheel!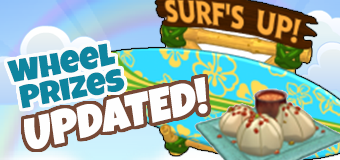 Well now, that sounds like lots of fun! Stay tuned to Webkinz Newz for all the news about what's happening every day in Webkinz Classic!
Take care, Kinzville!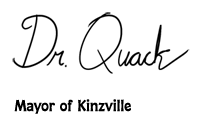 Follow Webkinz on social media:
social media