Eureka! Hello Kinzville, it's your new mayor, Goober! Looks like it's time once again to tell you all about what's new and exciting in Webkinz Classic for the next few weeks! Let's check it out: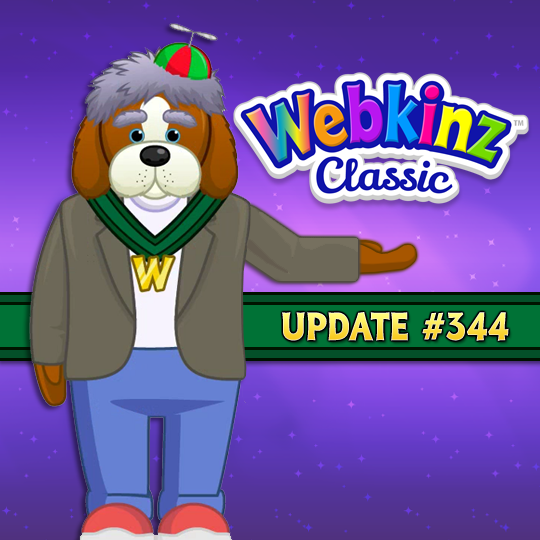 We've added 3 NEW prizes to the Webkinz prize pool! Every time you complete your Daily Delivery or spin the Wheel of WOW fifteen times, you might win a Polar Plunge Lunch Box, Potted House Plant, or a Laundry Basket! To increase your chances of winning one of the newer prizes, we've retired the Petal Tea Pot and KinzPost Postcard Collection.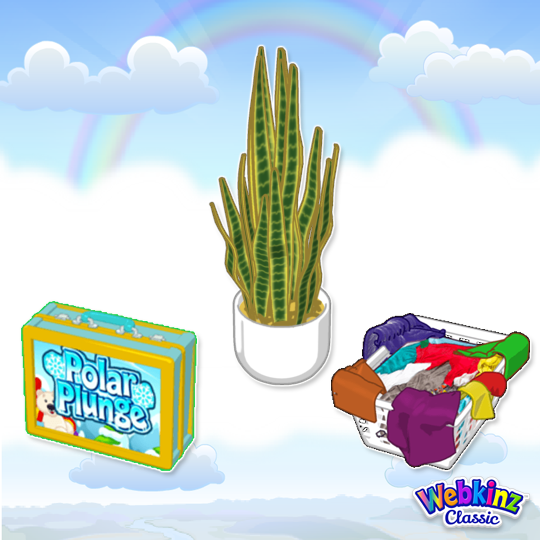 The DIY Design event returns to Webkinz Classic with new wallpaper and a new dye! From February 16 – 23, look for the floating bottle of dye on your Webkinz Classic account to click and collect. Combine bottles of dye, Design Tickets and DIY furniture on the Clothing Machine at the KinzStyle Outlet to make new furniture for your pets! Check out your updated DIY Design Guide (available in the WShop under Fun Stuff ==> Books) for all the cool combinations!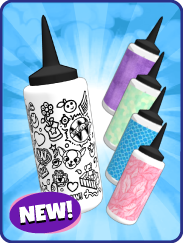 Our next Player Appreciation Day on Webkinz Classic AND Webkinz Next is on Saturday, February 18th! On that day, log in to your Webkinz Classic account on any platform to automatically receive your special prize for February: A Slouching Snowman! On Webkinz Next, look for the prize notification in your Message Center at the top right corner of the screen. As a BONUS, this month's prize CAN be traded, sent, and sold!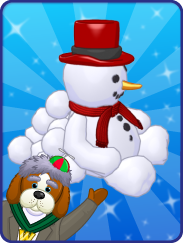 February's Deluxe Day is on Sunday, February 19th! When the day arrives, just visit the Today's Activities schedule on the Webkinz Classic desktop app to get your special prize for February: An Ice Fishing Hut!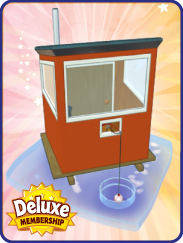 We're running a Wacky Weekend Event from Friday, February 24th, until Sunday, February 26th! During that weekend, play WackyER Zingoz in the Arcade, and if you reach 11,550 points or more, you'll win some WackyER Wallpaper, WackyER Flooring, a Wacky Laptop, or a NEW Wacky Piggy Bank!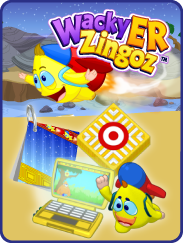 Hey, trophy collectors! We are running a Tile Towers Trophy Challenge from Monday, February 27th, until Sunday, March 12th! Complete all the tasks before midnight, EST on March 12th, and you'll win a Sandstone Pedestal that you can use to display your Tile Towers Trophy!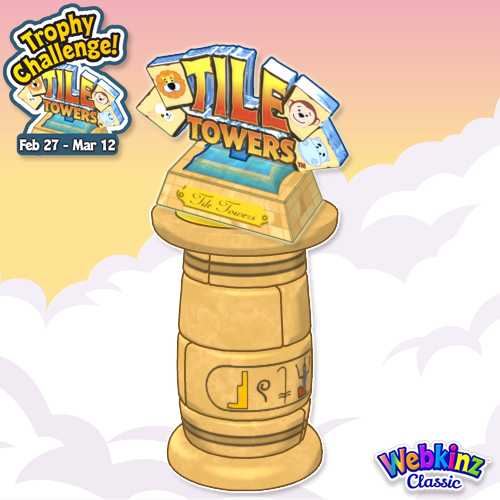 Come meet me at the Kinzville Park for my first Meet the Mayor event! From Wednesday, March 1st, until Wednesday, March 8th I'll be giving out a gift box containing a random prize! Inside you might find a pair of my trusty Goober's Goggles, or something new, like a Mayor Goober Poster, a Mayor Goober Plushy, or a Mayor Goober KinzCash Coin! Oh yeah!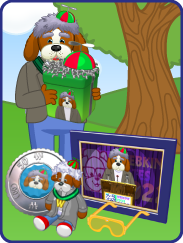 The March WShop challenge starts on WEDNESDAY, MARCH 1ST! If you complete all the tasks before the end of March, you'll receive a Tiara for your pet to wear when they're hanging out next to their NEW Fantasy Fountain!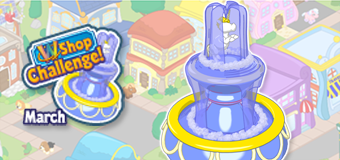 The Deluxe monthly challenge for March starts on WEDNESDAY, MARCH 1ST! If Deluxe Members complete all the tasks before the end of March, they'll receive a Spring Fling Ticket Booth, along with a NEW Stone Hippo Statue!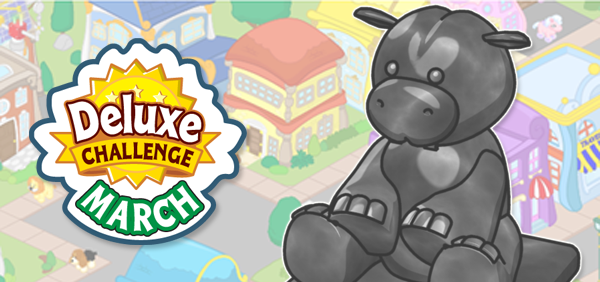 Our next Webkinz Days of Play event runs from Monday, March 6th until Tuesday, March 14th. Log in each day during that time to receive some extra plays for your favorite Magical Forest activities.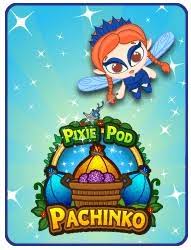 The Leprechaun Chase has moved to the Kinzville Park! From Saturday, March 11th, until St. Patrick's Day on Friday, March 17th, look around the Kinzville Park (only available on the Webkinz Classic desktop app) for the Leprechaun to appear! When you see him, click on him to collect a gift box. Inside you'll find 1 of 5 collectible coins, including a chance at a NEW Lucky Rainbow Coin! On St. Patrick's Day, the Leprechaun will instead be giving out a Lucky Coin Safe so you can store your coins!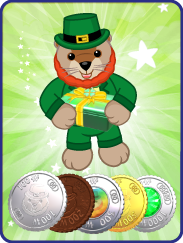 In March, Deluxe Members will receive their monthly gift box containing a Deluxe Medallion Gift Box filled with pet medallions, a Retro Rainbow Theme Gift Box which you can use to choose an item from the Retro Rainbow room theme, a Wish Token—and of course—the month's special clothing prize: a Good Luck Tank!
If you've adopted a Perky Penguin from the Ganz eStore, collect a Perky Penguin ?? Box from the Today's Activities schedule (Webkinz Classic desktop app only) on Saturday, March 11th and Sunday, March 12th! Inside you'll find something special from the Perky Penguin theme!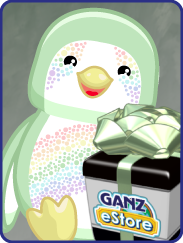 And if you really something sweet, make sure you drop by the Kinzville Park (on the Webkinz Classic desktop app) on Saturday, March 18th and Sunday, March 19th! Look for Chocolate Penguin Candy Tree in the park and then click on it to collect Dark Chocolate Penguins each day! If your pet still craves this sweet treat, you can pick up your own Chocolate Penguin Candy Treat the Ganz eStore!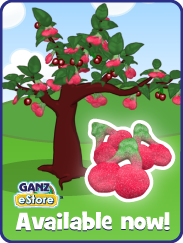 We are also running another Bake Sale 3 event in the Webkinz Classic Kinzville Park starting TODAY. The Bake Sale 3 Stand will continue to appear whenever there are no other events on in the Kinzville Park until March 14th! Visit the Kinzville Park each day to look for the stand each day and if you see it, click on it to get your gift box. Inside you'll find a random baked good which you can either feed to your pet, or you can use it in a stove recipe to create a special prize! You can find all the recipes in the Bake Sale 3 Cookbook, available in the "Books" section of the WShop, under "Fun Stuff".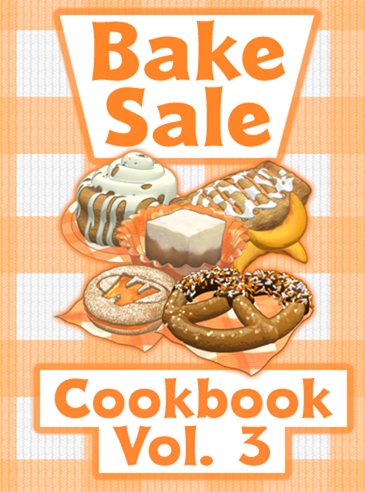 We've updated our prize wheels, and like I promised, there's a NEW item to be won on the Wheel of Wow AND the mobile Wheel of WOW! You have until March 14th to spin and win a NEW Wizard Window! We also have some returning prizes on the Wheel of Deluxe, and the Vacation Wheel!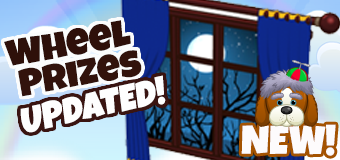 Oh yeah, that sounds like it's going to be a blast! Weeks of experiments in fun!
Go Kinzville!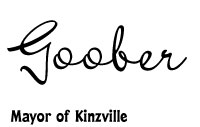 Follow Webkinz on social media:
social media