We gave you a sneak peek at this pet in an earlier Webkinz Newz story, and now we'd like to present to you our newest Webkinz plush pet, the Hedgehog!
UPDATE: The darker version of the plush that you see in the video is actually an earlier prototype of this pet that was updated after Steve recorded his video. We are in the process of updating the virtual version. Anyone who adopts this pet will see the darker version of the hedgehog on their Webkinz account until August 30th, at which point it will switch to the final version with lighter face (pictured below).
Check out this unboxing video, revealing the Hedgehog in action!
If you're looking for a pet that's a little different, you'll definitely dig the heartwarming Hedgehog! This marvelous little mammal loves their sleep, so have them hibernate in their very own Leaf Litter Nest! When they wake up feeling famished, feed them some nice Nocturnal Nibbles!
Here's a look at the Hedgehog plush, along with all of the items you'll get when adopting one: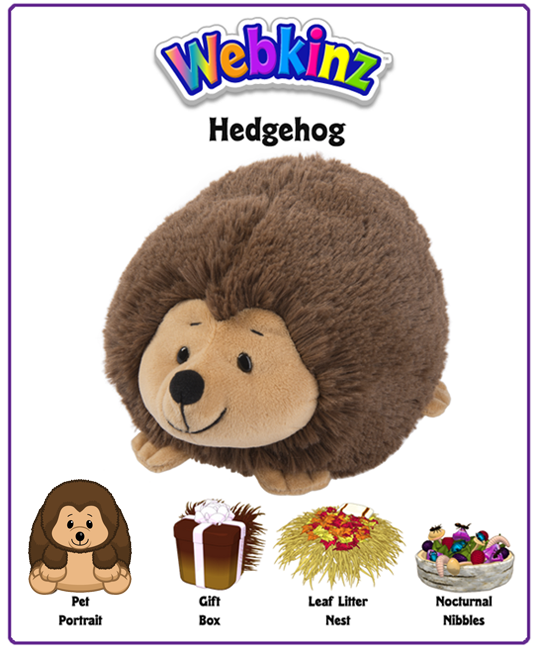 Want a plush Hedgehog all your own? This and other Webkinz plush pets are now available for order directly from the Ganz eStore!
What would you name this spiny species of pet?
Enter our Contest here! Suggestions in the comments will not be entered into the contest.
Note: Contest closes at 11:59 PM EST on Sunday, August 6th, 2017.