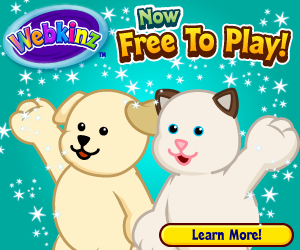 Webkinz is Now FREE to Play!
We are proud to announce that Webkinz is now FREE to play! Previously the only way to experience the fun of Webkinz World required the upfront purchase of a Pet. But now FREE members will be able to create an account using either a basic Dog or Cat that they can take care of, in addition to many other fun features.
The limitations for Free Membership include:
A limit of 2 rooms for your pet
A limited number of items that can be stored in your Dock
No access to trade rooms
No access to sending items via KinzPost
Limited access to Arcade and Tournament Arena games
Limited access to Daily Activities (Deluxe and Pet of the Month activities are still unlocked separately)
Limited selection of items in the W Shop, KinzStyle Outlet and Curio Shop
Limited access to classes in the Kinzville Academy
Limited access to jobs in the Employment Office
Limited friends list
No access to Quizzy's Discovery Zone or Signature Safari questions in Quizzy's and a limit to the number of questions per category
No ability to turn off 3rd party advertising
As with Full Membership, certain areas will still require a Feature Code to unlock them. Free memberships won't expire and can be upgraded at any time to a Full Membership for 1 year by using a paid Webkinz Pet Secret Code.
You can also upgrade your account by using one of our Deluxe Membership options. You can learn more about Deluxe Membership here.
Be sure to tell your friends – now's the time to check out Webkinz World and play for free!