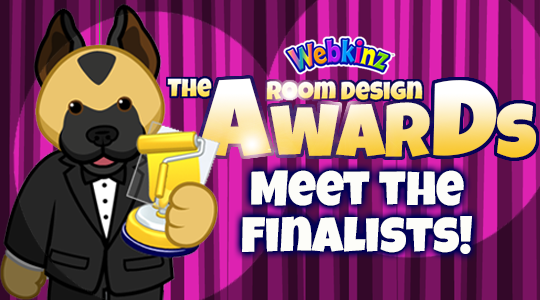 It's time for another round of the Room Design Awards! I wanted to thank everyone who has sent me a design. Keep them coming! Who knows, you may be featured as a finalist the next time we hold the room design awards.
Congratulations to the twenty-four finalists! You can see their room designs below. Please take a look at each design carefully. You'll be able to vote for your top five favorite designs on Friday, November 11, and your vote will help determine who will win a trophy!
Congratulations finalists!
Only ten finalists will take home a Room Design Trophy. Six winners will be decided by a vote on Webkinz Newz. From Friday, November 11 – Sunday, November 13 (ending midnight, EST), players can vote for their top five favorite designs. The six designers who receive the most votes will be awarded a Room Design Trophy. The final four winners will be chosen by the Webkinz Newz Team. Sally, Mandy, Steve and I will each choose our favorite room design and the designers will be awarded a Room Design Trophy.
Results will be announced on Monday, November 14. If you are chosen as a winner, please check your inbox for an email that will explain how to get your trophy.
Good luck!