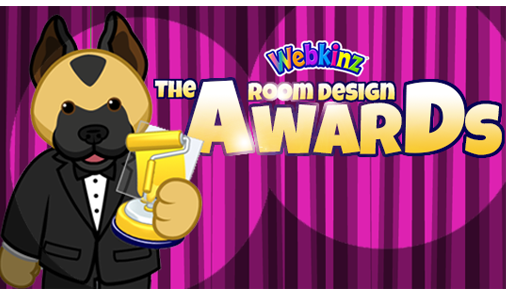 Get ready for another round of the Room Design Awards! There are thirty finalists, but only fifteen of them will take home a trophy and join the elite group of Webkinz Room Design Award winners! Please take the time to look over each design carefully, because you'll be able to vote for your top five favorites on Friday, November 17:
Congratulations to the finalists!
Remember, only fifteen finalists will win a Room Design Trophy. Ten winners will be decided by a vote on Webkinz Newz. From Friday, November 17 – Sunday, November 19 (ending midnight, EST), players can vote for their top five favorite designs. The ten designers who receive the most votes will be awarded a Room Design Trophy. The final five winners will be chosen by the Webkinz Newz Team. Sally, Mandy, Steve, Dorothy Lou and I will each choose our favorite room design and the designers will be awarded a Room Design Trophy.
There is a Classic and Next version of the Room Design Trophy, so if a winning design was created on Webkinz Next, the designer will be sent the Next version of the trophy.
Results will be announced on Monday, November 20. If you are chosen as a winner, please check your inbox for an email that will explain how to get your trophy.
Good luck!
Download Webkinz Next now — available for iOS, Android and Windows 10.
Follow us on social media: