Hello Webkinz Newz readers, Ella McWoof here with a special report!
The results for Webkinz Votes 2020 are in and the Citizens of Kinzville have once again elected Dr. Quack as their new mayor! Dr. Quack will officially begin his role as the new Mayor of Kinzville starting on January 1st.
Here are the official results: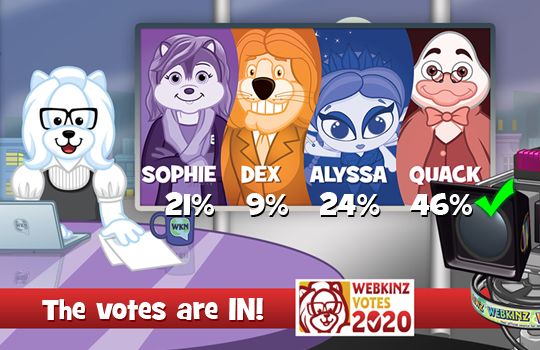 The Mayor-Elect of Kinzville would now like to say a few words: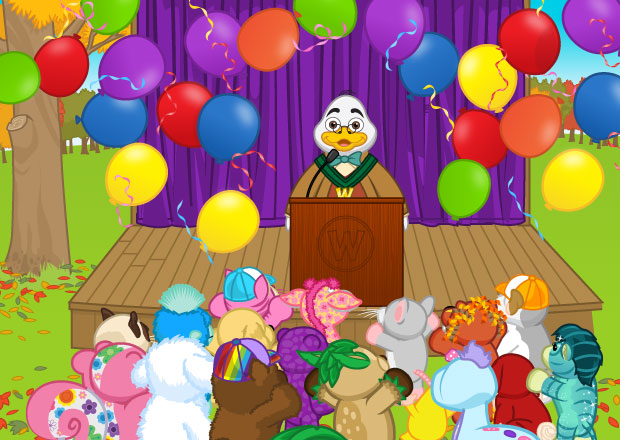 My Dear Citizens of Kinzville,
I, Dr. Quincy Quack, humbly accept your decision to choose me as the Mayor of Kinzville once again!
I have received a call from Mayor Sophie Stockwell and she has kindly congratulated me on my win. Now there is a lot of work to be done, but I know I am up to the task. I shall be stepping back into the role starting in the new year, January 1st, 2021. Once the transition is complete, I will begin setting up my new Caring Clinic in the Clubhouse. Stay tuned to Webkinz Newz in the new year where I will announce when it is ready to open.
There are many reasons to look forward to 2021 with a sense of hope and optimism, and I am so grateful that you have given me this opportunity to once again bring the community of Kinzville under my wing. Whether you voted for me or not, I promise to govern for every citizen. Because I care.
Thank you,
Mayor-Elect Dr. Quack