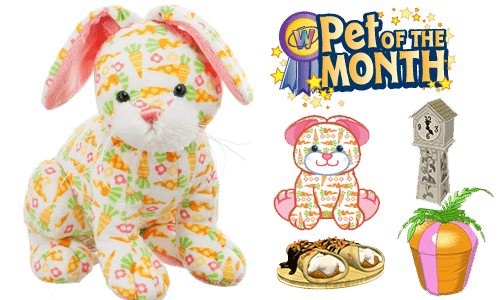 The Carrots Bunny is our Pet of the Month for April 2017!

Celebrate the beauty of spring with the happy-as-can-be Carrots Bunny! This cutie loves hopping around the garden while keeping an eye on the time with their own Springtime Clock! And after an early morning walk, they love nothing more than a sweet helping of Carrot Cake Crepes, the perfect breakfast to start off another spring day!
Adopt the Carrots Bunny in April, and you'll get a loot bag full of surprises and a Pet of the Month prize you can't get anywhere else!


ALL Pet of the Month Plush prices NOW INCLUDE applicable shipping charges.
Want to enhance the Pet of the Month experience? Why not join the Webkinz Pet of the Month Club? What do you get with a Webkinz Pet of the Month Club subscription?
12 adorable Pet of the Month plush pets – Never miss the Pet of the Month again! Delivered directly to your door every month for a year! A FREE 1 Month Deluxe Membership Code! A FREE BONUS Virtual Pet! Click here to learn more about the Pet of the Month Club!