It's me, Fiona, back for another round of fan mail! As always, for my past answers, click here! If you miss me, you can always head to KinzPost and send a letter or a package, and I'll deliver it for you! Don't forget, you can add me as a friend by going to KinzChat and adding Fiona Feathers (include the space!).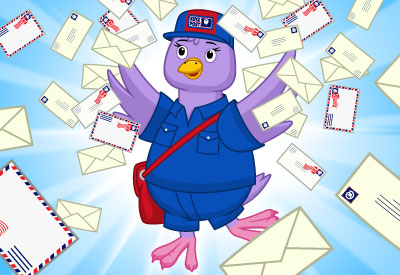 Dear Fiona, can you make an event where ganz will make retired webkinz for a week only? I really miss retired webkinz like the winter fawn and spooky puppy… – bunbun456
Hi, bunbun456! Unfortunately, with the way that manufacturing works, there's no way that we could do something like this. At best, virtual versions could be made available for a week. But remember, retired pets just aren't manufactured anymore — but you may still be able to find them at retailers or online.
Hi Fiona. It's always nice seeing you here. All the Easter events going on are really nice this year. Do you think maybe next year they would make a Easter room in the club house ? Have a bunny in there to click on and get candy ? And… maybe next year if they could get Easter baskets at the estore filled with candy ? We could send them to our friends ? Thanks – AUNT09
Thanks for your suggestion, AUNT09! I will be sure to pass it on to our creative team. With any luck, you might see something like that next year.
How do you shut off ALL the sounds from the arcade games? I hit the note but that just stops the music. I want all the beeps, and whistles to go away. I do not want to turn the sound off on my puter as I want to listen to other things. THX – Ellen1970
Good question! If you really don't want to mute your whole computer, then there is a workaround — if you're in Chrome, you can right-click the top bar and select "Show as tab." Then you can right click the tab and select "Mute tab" — that will mute all of the sounds from that tab without muting your whole computer. Hope that helps!
Want to write to Webkinz?
Send your letters to:
Ganz #04360 Industrial Parkway
Cheektowaga, NY
14227-9903
Have more questions? Ask them below and you might be featured in the next edition of Fan Mail with Fiona!