Congratulations MoxieMooMoo… Mandy picked your room design as her favorite, and you have won a Room Design Trophy! Here's what she had to say about your room:
This is such a clever design! I have to say – I am a sucker for those Windows on the World boxes! I love using them in my rooms, and they are perfect for a processing plant. But there are so many other inspired choices in this room too. Safety first, everyone! This processing plant has a fire extinguisher in an easily accessible area, and bells on the wall. I'm guessing those might be fire alarms that get used for drills. There's a digital clock to keep track of time, so employees know when to punch out using the time clock on the wall by the door. This plant knows how important it is to recycle. That's why you can find a recycling bin right next to the pop machine. It looks like the foreman keeps keys handy on the hooks next to the door. This plant seems to have a pretty sophisticated ordering system – not only do they pack orders in the cardboard crates, it looks like they offer a gift wrapping option too! Of course there is a pet busy at work in a 'forklift'. But my favorite part of this room has to be the massive apple processing machine right in the middle! Moxiemoomoo used an cool machine at one end, and then lined up Apple Farm Picnic Tables next to it. The wooden slats and the iron bands on the table create the illusion of a long conveyor belt coming from the machine, especially with the strategically placed apple crates. There's even a robotic arm on one side of the conveyor belt to really enhance the effect. What a clever room! I love it!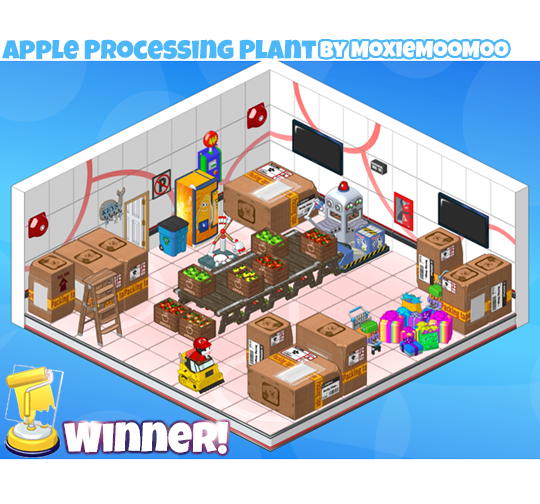 MoxieMooMoo, please check your inbox for an email that will explain how to get your trophy.