When players visit the Kinzville Park from February 7th to the 14th, they will once again find Cinnamon the Hamster attending her chocolate stand. Each day, she is giving out a free chocolate for your collection. If you collect all 6 chocolates, you'll unlock a Valentine Mailbox Fridge that you can use to store your collection!
Remember, 1 chocolate can only be found right here on Webkinz Newz! You'll need it to complete your collection.  Look for the floating chocolate on Webkinz Newz from February 7th – 14th and click on it to add it to your collection!
Here's a look at this year's selection of chocolates and the grand prize, along with a look back at last year's!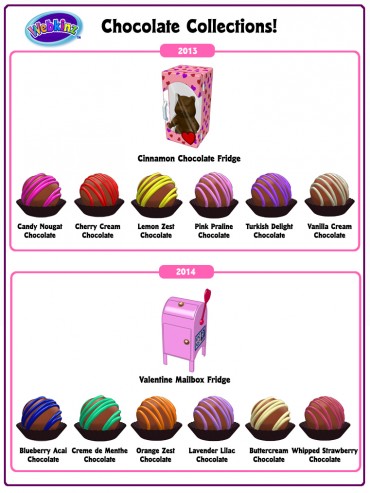 And if you want to have your very own Cinnamon Hamster, you're in luck! The Ganz eStore has this happy hamster on sale for just 5000 eStore Points for the entire month of February!