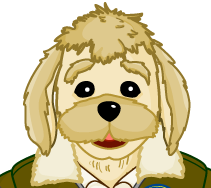 I'm here today with everyone's favorite explorer, Arte Fact. Arte, thanks so much for taking time out of your busy schedule to do an interview!
Arte Fact: My pleasure, Ella. It's been a long while since anyone asked to interview me about anything!
Ella: I find that hard to believe. After all, you've had quite an exciting career!
AF: I have, it's true. Even though I've settled down somewhat, I do occasionally miss those old days of crazy adventure.
EM: What was your craziest adventure?
AF: I have to pick just one? That's impossible! They were all quite outstanding. The time I went to the top of Mount 'Kinz…the time I discovered the gem mines…meeting the Azure Zingoz…it was all fantastic.
EM: A lot of folks have wanted to know: are you still in touch with Matilda?
AF: Matilda Monkey? Why, yes. She and I email each other at least once a week. She's teaching right now, in West Webkinz World. She's a beloved professor, and I'm so proud of her. She's extremely talented. I attended one of her lectures once – her students just adore her.
EM: And you? How do you feel about Matilda?
AF: She's an excellent friend. Probably my best friend. We like to get together a few times a year and talk about our old adventures. In fact, we have a big plan to explore Mount 'Kinz again next year. I'm looking forward to it!
EM: OK, five fast questions. See how quickly you can answer them!
AF: Sure!
EM: Favorite food?
AF: Spaghetti and meatballs.
EM: Favorite color?
AF: Blue…or gray…or black. All of them!
EM: Favorite family member?
AF: Sparky, my wonderful nephew.
EM: Favorite place to vacation?
AF: Anywhere I haven't explored yet.
EM: If you had a million KinzCash, you would:
AF: Go traveling. Nothing like better for broadening the mind and keeping life adventurous.
EM: Thanks so much, Arte!
AF: My pleasure!