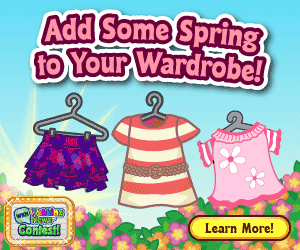 With all the beautiful spring weather we're having in Webkinz World, it's time to update our wardrobes with some fun spring clothing! Stay tuned to Webkinz Newz between now and the end of the month for a chance to win Webkinz Newz exclusive spring clothing.
From April 3-10, you can win a Striped Cotton Dress by finding PJ Collie 5 times in the Striped Cotton Dress Peek-A-Newz Challenge!
Also from April 3-10, look for the floating Pink Floral Dress around Webkinz Newz. Click on it to win one!
You'll find the GW Layered Skirt from April 11 – 17 — stay tuned to Webkinz Newz for more details.
Limit of one prize per Webkinz World account per day.