Hailey and I have been SO busy trying to plan out the new looks for some of the stores around Kinzville. Today we're going to be doing the Employment Office.  Tabby asked us to make everything look super spooky and cool. Tabby LOVES Halloween, so we didn't hold back!
With a little bit of ingenuity and some really cool stuff from the various shops in Kinzville, this is what we came up with: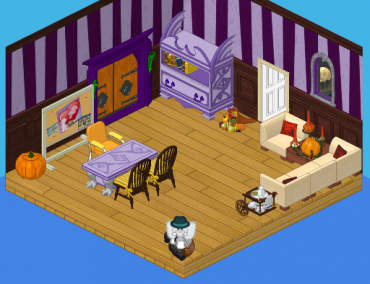 Personally, I love it! I love the purples and oranges and how everything looks SO seasonally perfect. The couches are extremely comfy (which is good for Webkinz who are waiting to see Tabby), and the tea cart is a nice, elegant (and unexpected) touch. I absolutely LOVE Halloween!