Submitted by: Missa with Jen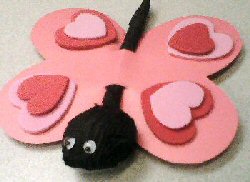 What you need:
•Red & pink craft foam
•Pink card stock
•Scissors
•Glue
•2 googly eyes
•Round  Lollipop
•Black tissue paper
What you do:
•Cut out hearts from foam in alternating colors in various sizes.
•Cut out a butterfly shape from the pink cardstock.
•Cut two slits with scissors along the middle of the butterfly cutout.
•Wrap the entire lollipop with black tissue paper, securing in place with glue.
•Glue googly eyes onto the lollipop.
•Glue the hearts in alternating colors and size to the wings of the butterfly.
•Thread the stick of the lollipop through the slits to form the butterfly body.
Do you have a great idea for a craft, recipe or party game? We'd love to hear them!