Submitted by: San with Icee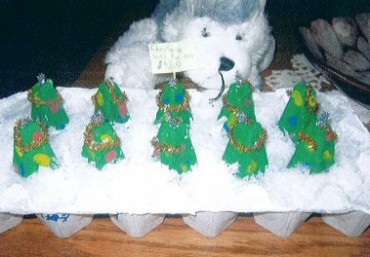 What you need:
Egg Carton
Paint
Pipe Cleaners
Fake Snow
Cotton Balls
Paper
One Toothpick
Tape
Scissors
What you do:
1.     Paint the pointy part on the egg carton green.
2.     Paint on the ornaments.  Allow the paint to dry.
3.     After the paint dries, put cotton balls where the eggs would go.
4.     Take a gold pipe cleaner and wrap it around the pointy parts.
5.     Sprinkle fake snow over cotton balls.
6.     Poke a hole in the side of the egg carton.
7.     Put the toothpick in the hole.
8.     Cut a small sign out of the paper and write "Trees for sale".
9.     Tape the sign onto the toothpick.
Do you have a great idea for a craft, recipe or party game? We'd love to hear them!