Submitted by: hoo with Bella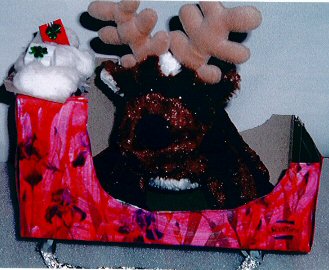 What you need:
One tissue box
Red paint
Cotton balls
Dice or squared shaped beads
Green confetti
Aluminum foil
Tape
Duct tape
Scissors
Glue
What you do:
1.     Take the tissue box and cut a curved line along both sides leaving the top of one end uncut.
2.     Paint the box red.
3.     Take a piece of aluminum foil and roll it.
4.     Then curve the ends of the foil to make the sled runners.
5.     Once the paint is done drying, flip the box over.  With an adult's help, duct tape the runners to the bottom of the sled.  Then flip the sled back over.
6.     Next glue the pieces of confetti on top of the dice or beads to make present boxes.
7.     Glue the cotton balls and the present boxes onto the uncut end of the sleigh.
8.     Sit your reindeer in it and have them try out the reins!
Do you have a great idea for a craft, recipe or party game? We'd love to hear them!