Submitted by: jet with Romeo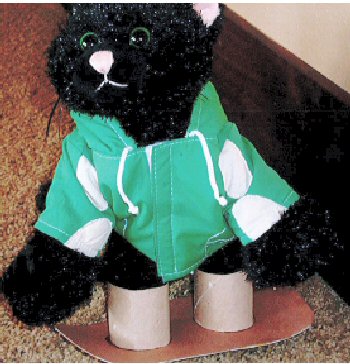 What you need:
1 Small cardboard box
1 Sheet of construction paper
1 Empty toilet paper tube
Craft glue
1 Webkinz Plush
Scissors
What you do:
1.     Cut out an oval from the cardboard box.  Make sure that the two long sides are parallel and straight.  Turn the rounded edges up a little, looking like a snowboard.
2.     Cut a piece of construction paper in the shape of the snowboard.  Glue the paper on the snowboard.  Press down firmly.
3.     Cut the toilet paper tube in half.  Glue one half on one end of the snowboard and the other half on the other end of the snowboard.  Let dry.
4.     Put your Webkinz paws in the tubes.
Do you have a great idea for a craft, recipe or party game? We'd love to hear them!