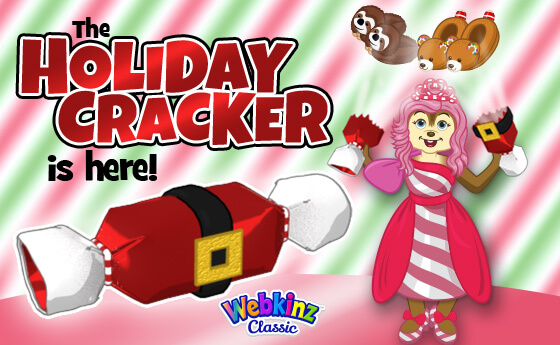 No holiday is complete without opening a 2020 SantaKinz Holiday Cracker to find the fun clothing items inside! You'll be awarded two random clothing items for each cracker you crack open! Crackers may also contain new clothing items not previously released!
Drag and drop your 2020 SantaKinz Holiday Cracker from your Dock into your Pet's room. Watch as the cracker magically awards mystery clothing items to your dock!
Here's a preview of some of the new clothing items you may find in the 2020 SantaKinz Holiday Cracker:
Peppermint Princess
Outfit pieces

Peppermint Prince
Outfit pieces

Festive Knit
Outfit pieces

Gingerbread
Antlers

Christmas
Cupcake Dress

Gold Sequined
Ice Skates

Dashing Snow
Outfit pieces

Green
Christmas Bow

Gingerbread Bear
Slippers

Candy Cane
Glasses

Winter Polar
Bow

Sleepy Sloth
Slippers

Wintery
Cupcake Dress

Minty Elephant
Hat

Cozy Plaid
Gift Box Dress

Blue Frost
Dress
Visit Ganz eStore for more details about 2020 Holiday Gift Stockings and Crackers.