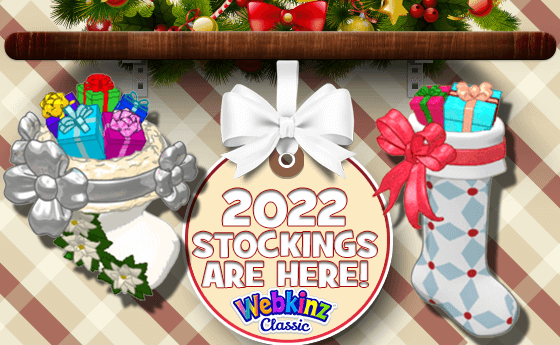 THE 2022 HOLIDAY GIFT STOCKINGS HAVE ARRIVED!
No holiday is complete without opening a 2022 Holiday Gift Stocking to find fun items inside!
2022 Holiday Gift Stockings award random items and some jolly holiday prizes too ranging in size, from small to large, and functionality. Gift Stockings may also contain new items not previously released! You won't want to wait for Christmas morning to open yours!
Drag and drop your 2022 Holiday Gift Stocking from your Dock into your Pet's room. Listen to jingling bells and watch as the stocking shakes and magically awards mystery items to your dock! You also get a tradeable Stocking you can hang in your Pet's room.

Here's a preview of some of the new items you may find in the 2022 White Poinsettia Stocking:
Holiday Plaid
Bed

Gingerbread
Bunk Bed
Holiday Present
Snow Globe Bed

Winter Hedgehog
Bed

Gingerbread
Hot Air Balloon
Holiday Flair
Bed

Holiday Flair
Wardrobe

Sugar Cookie
Shower

Winter Hedgehog
Rocker

White Poinsettia
Bed

White Poinsettia
Swing

Red Stocking
Sleeping Bag

Poinsettia
Slide

Gingerbread
Camper

Here's a preview of some of the new items you may find in the 2022 Holiday Flair Stocking:
Sugar Cookie
Puppy Rug

Holiday Poinsettia
Wacky
Plush Reindeer
Bed

Holiday Flair
Storage Bench

White Poinsettia
Rug
Warm Slipper
Bed

Holiday Plaid
Curtains

Holiday Plaid
Rug

Holiday Flair
Curtains

Holiday Flair
Rug

Holiday Flair
Sofa

Holiday Flair
Armchair

Holiday Ornament
Wacky

Holiday Cabin
Curtains
Visit Ganz eStore for more details on the 2022 Holiday Gift Stockings.