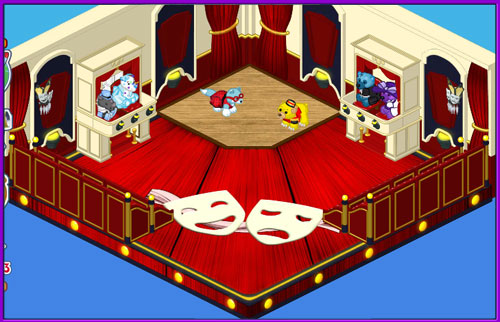 Turn your Pet's room into a Theater!

Act one, scene one: Play the part!
Have your Webkinz play the part of Theater Usher perfectly with the authentic Theater Usher Jacket! Pair with the Theater Usher Cap for a complete uniform!
Act one, scene two: Add character!
The Theater Wallpaper and Flooring are the perfect mix of elegance and usefulness, plus the flooring has its own stage for your pets to perform on!
Act two, scene one: Add drama!
Enjoy the luxury of the dramatic Theater Wall Chandelier – a great accent for the Theater Wallpaper.
Act two, scene two: Add spectators!
For the theater-going pet who enjoys a great view, place the three tiers of Plush Red Bleacher Seating behind each other to create authentic audience seating!


You may find these items and so much more at both Ganz and Webkinz eStores!