Introducing a new kind of Gift Box… the "?? Box"!
The ?? Box is a new kind of monthly mystery item box. Each time you open a "?? Box", you'll have a chance to receive one of five random tradeable items from a specific monthly theme. Each month will feature a new theme.
April's theme is Peaceful Forest. Just the thing for creating a truly serene scene!
Inside the Peaceful Forest ?? Box you may find one of these items:
Your pet will soon be sleeping peacefully atop the terrific Peaceful Forest Treehouse Bed! A truly relaxing spot to snooze!
Lounging on the Peaceful Forest Log Lounger is the perfect way for your pet to stop and admire the beauty of nature all around them! They're sure to find it quite peaceful!
The pretty Peaceful Forest Pond is the perfect spot for your pet to sit and reflect on the world around them! They'll love relaxing atop the awesome overgrown bridge!
The gorgeous glowing Peaceful Forest Sacred Tree is the perfect spot for your pet to discover some inner serenity! Add a few around the forest for a truly magical look!
Create a pathway through the Peaceful Forest with Peaceful Forest Path Tiles, so your pet can find their own inner peace! It's sure to lead them to some new and wonderful things!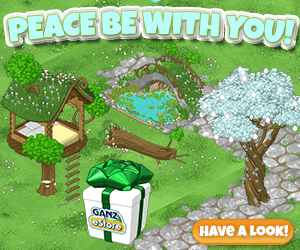 You may find the Peaceful Forest ?? Box and other April Specials at eStore starting April 1, 2017!