Introducing a new kind of Gift Box… the "?? Box"!
The ?? Box is a new kind of monthly mystery item box. Each time you open a "?? Box", you'll have a chance to receive one of five random tradeable items from a specific monthly theme. Each month will feature a new theme.
March's theme is Cheerful Clinic. Just the thing for creating a wonderful wellness center!
Inside the Cheerful Clinic ?? Box you may find one of these items:
Your pet will get all the rest they need atop the comfortable Cheerful Clinic Bed! Getting a good night's sleep is often the best medicine!
The rolling Cheerful Clinic Stool is just what your medical staff needs to get up close and personal with their patients! Pick up a few to make things more comfortable for everyone!
Every pet wants a room with a view when they're not feeling well! Getting a glimpse of the great outdoors is sure to help them feel better with the Cheerful Clinic Window!
Keep your clinic nice and tidy with the carefully-organized Cheerful Clinic Cabinet! It will help you keep things sorted and make everyone more patient!
Give your pets some privacy while they recover with the reversible Cheerful Clinic Screen Divider! It will help to keep them feeling cheerful in the clinic!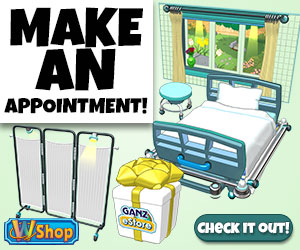 You may find the Cheerful Clinic ?? Box and other March Specials at eStore starting March 1, 2017!