KNOW A WEBKINZ FAN? TRY THIS GIFT IDEA: 2012 MYSTERY GIFT STOCKINGS!
Mystery Gift Stockings come in three sizes and are THE perfect gift for any Webkinz Fan!
2012 Festive
Stocking Gift
2012 Delightful
Stocking Gift
2012 Colossal Holiday
Stocking Gift
Awards up to three random items, plus the
presentable stocking!
Awards up to five random items, plus the
presentable stocking!

Awards up to 10 random items, including the presentable stocking!
All three Mystery Gift Stockings award random items ranging in size from small, medium, large and even extra large items including a stocking you can hang in your Pet's room. 2012 Mystery Gift Stockings may also contain new items not previously released!
Once a Mystery Gift Stocking Feature Code has been unlocked in the Webkinz World Code Shop, drag and drop the Mystery Gift Stocking from your Dock into your Pet's room. Listen to jingling bells and watch as the Stocking shakes and magically awards mystery items to your Dock!
What items will you get in your Mystery Gift Stocking?
RANDOM ITEMS EVERY TIME!
You might wanna get more than one!

Below are some examples of what you might find in a 2012 Colossal Holiday Gift Stocking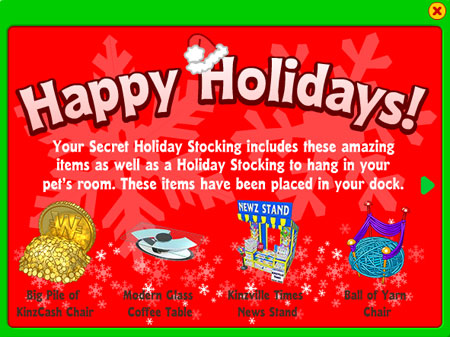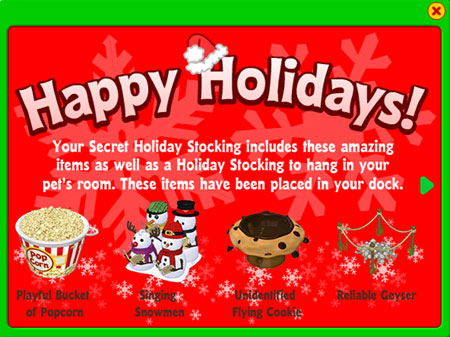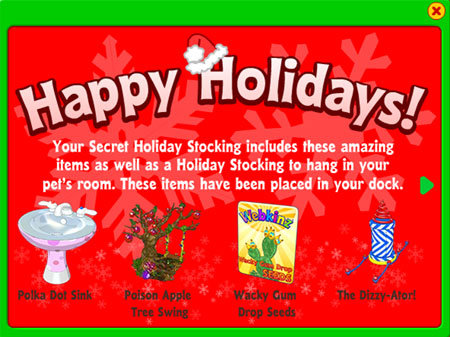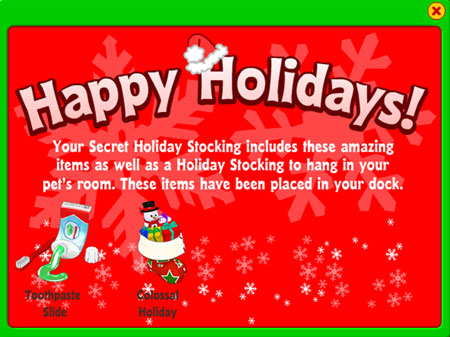 Visit Ganz eStore for more details on Mystery Gift Stockings.