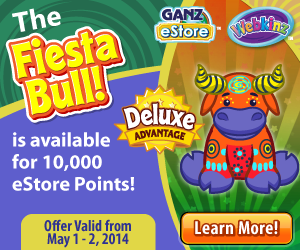 The NEW Deluxe Advantage Fiesta Bull will be available at eStore May 1st!
Get ready for a lively party with the fun-loving Fiesta Bull! This vibrant pet is terrific at planning AND throwing parties for all of their friends. Just look at their festive Fiesta Dining Table, the perfect party centerpiece! And when the food gets rolled out during the festivities, of course they'll go for Quirky Quesadillas, the best fiesta food around!
You may find this pet and more at eStore!
The Fiesta Bull for 10,000 Points special is available both May 1st and 2nd, 2014. It will continue to be available throughout the rest of May at regular pricing.