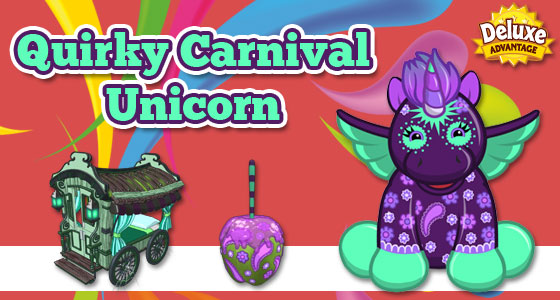 The NEW Deluxe Advantage Quirky Carnival Unicorn will be available at eStore starting September 1st!
It's great to be quirky! Meet the unique Quirky Carnival Unicorn, a colorful pet who loves to have fun! Ready to go on an adventure with them? Bring along a Twisted Candy Apple or two! And when you're ready for a quick nap, grab a few Zzz's on their crazy-cool Quirky Carnival Wagon Bed, a one-of-a-kind piece!
You may find this pet and more at eStore!
The Quirky Carnival Unicorn for 9,000 Points special is available both September 1st and 2nd, 2014. It will continue to be available throughout the rest of September at regular pricing.