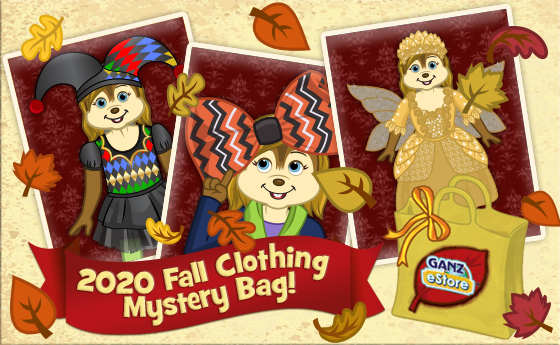 THE 2020 FALL MYSTERY CLOTHING BAG HAS ARRIVED!
Mystery Clothing Bags award two random clothing pieces, some not previously released!
Drag and drop your Mystery Clothing Bag from your Dock into your Pet's room. Watch as it magically awards mystery clothing items to your dock!



Here's some tradeable clothing pieces you may find in the 2020 FALL Mystery Clothing Bag:
Golden Fairy Headdress,
Gown, Slippers

Happy Halloween
Hair Bow, Dress

Jolly Jester Hat
Jolly Jester Dress

Ghostie
Hat

Nightfall Dragon Hat,
Nightfall Dragon Slippers

Tricky Tiger Costume
Hat, Suit, Feet

Red Warlock Hat,
Red Warlock Robe

Midnight Owl
Hat, Costume, Feet

Birthstone Wigs
Ruby, Peridot, Sapphire
The 2020 Fall Mystery Clothing Bag may be found in Ganz eStore as well as W-Shop in Webkinz World until November 15, 2020.