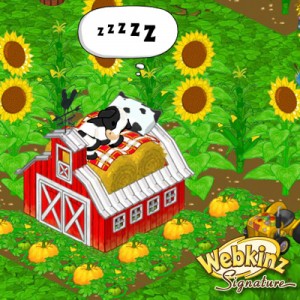 Ganz is proud to showcase the Webkinz Signature and Endangered Species Edition Signature Pet collections. These beautifully detailed pets are more life-like than regular Webkinz Pets.
Every Signature series pet includes an amazing pet-specific special item and food to dazzle players, a Wish Token for extra fun on the site, an exclusive piece of the Signature Room Theme that is only available from adopting a Signature Pet, plus all the regular adoption rewards!
Mooo-ve over, here comes the Signature Cow! Everyone loves a bodacious bovine, and this one is as lovable as can be. There is a Cozy Hayloft Hideaway where you can find this pet feasting on its Signature Cowzone.
The Signature Cow comes with the following items:
• Special Item: Cozy Hayloft Hideaway
• Special Food: Cowzone
• A Wish Token
• Plus one Exclusive item from the Signature Room Theme
You may find this virtual, online Signature Pet and more at eStore!