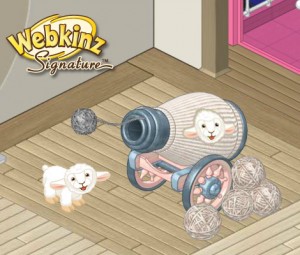 Ganz is proud to showcase the Webkinz Signature and Endangered Species Edition Signature Pet collections. These beautifully detailed pets are more life-like than regular Webkinz Pets.
Every Signature series pet includes an amazing pet-specific special item and food to dazzle players, a Wish Token for extra fun on the site, an exclusive piece of the Signature Room Theme that is only available from adopting a Signature Pet, plus all the regular adoption rewards!
This little lamb has strolled onto the lush green pastures of Webkinz World! Players who adopt the Signature Small Lamb will be rewarded with an ultra cool Woolly Carnival Canon! After you and your Lamb are done playing, you can share a plate of Crispy Hay Squares.
The Signature Small Lamb comes with the following items:
• Special Item: Woolly Carnival Canon
• Special Food: Crispy Hay Squares
• A Wish Token
• Plus one Exclusive item from the Signature Room Theme
You may find this virtual, online Signature Pet and more at eStore!