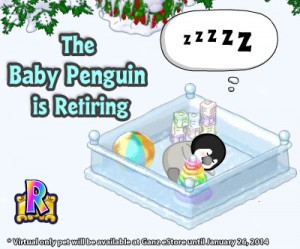 The Baby Penguin is retiring from the Webkinz catalog this Sunday, January 26th, 2014!
Baby Penguin owners can celebrate in Webkinz World!
If you don't have a Webkinz Baby Penguin, you have a chance to find an online-only version of this pet at Ganz eStore until Sunday January 26th, 2014!
Take one look at this soft and fuzzy gray Baby Penguin and you're sure to fall head over heels. From the Baby Penguin's flappy flippers to its cuddly tummy and sweet smile, this little friend is simply adorable. Baby Penguins are full of energy and just love to play – especially with someone like you!
You may find this online-only, virtual, pet and many more at eStore!