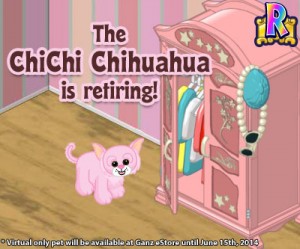 The ChiChi Chihuahua is retiring from the Webkinz catalog this Sunday, June 15th, 2014!
ChiChi Chihuahua owners can celebrate in Webkinz World!
If you don't have a Webkinz ChiChi Chihuahua, you have a chance to find an online-only version of this pet at Ganz eStore until Sunday June 15th, 2014!
The trendy ChiChi Chihuahua is sure to become a Webkinz World favorite! A true shopaholic, this pretty pooch needs a Chic Wardrobe to hold all its fancy new clothes! And after a long day of browsing through every aisle of the Kinzstyle Outlet, the Chihuahua likes to chow down on a Decadent Doggy Dish.
You may find this online-only, virtual, pet and many more at eStore!