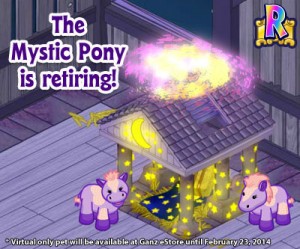 The Mystic Pony is retiring from the Webkinz catalog this Sunday, February 23rd, 2014!
Mystic Pony owners can celebrate in Webkinz World!
If you don't have a Webkinz Mystic Pony, you have a chance to find an online-only version of this pet at Ganz eStore until Sunday February 23rd, 2014!
The future is bright for Webkinz fans who adopt the Mystic Pony! This beautiful pet will take to you quickly if you feed it a steady diet of Supernatural Spaghetti and let it sleep the nights away in its Starlight Stable!
You may find this online-only, virtual, pet and many more at eStore!