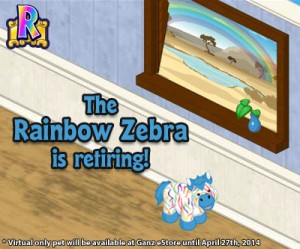 The Rainbow Zebra is retiring from the Webkinz catalog this Sunday, April 27th, 2014!
Rainbow Zebra owners can celebrate in Webkinz World!
If you don't have a Webkinz Rainbow Zebra, you have a chance to find an online-only version of this pet at Ganz eStore until Sunday April 27th, 2014!
The Rainbow Zebra is surely the most colorful creature you're likely to see frolicking around Webkinz World! Adopt this striped pal and you'll also receive a beautiful Rainy Rainbow Window and a plate of Herbivore Smores to feed your new Zebra!
You may find this online-only, virtual, pet and many more at eStore!