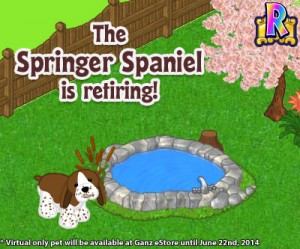 The Springer Spaniel is retiring from the Webkinz catalog this Sunday, June 22nd, 2014!
Springer Spaniel owners can celebrate in Webkinz World!
If you don't have a Webkinz Springer Spaniel, you have a chance to find an online-only version of this pet at Ganz eStore until Sunday June 22nd, 2014!
This cuddly canine loves spending time outside! The Springer Spaniel is full of energy, curiosity and always up for an adventure! Most of all, this pampered pup loves to travel! Going on holiday often will definitely keep this pet pleased!
You may find this online-only, virtual, pet and many more at eStore!