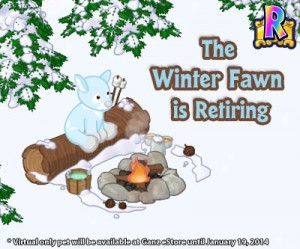 The Winter Fawn is retiring from the Webkinz catalog this Sunday, January 19th, 2014!
Winter Fawn owners can celebrate in Webkinz World!
If you don't have a Webkinz Winter Fawn, you have a chance to find an online-only version of this pet at Ganz eStore until Sunday January 19th, 2014!
The Winter Fawn may enjoy icy conditions but it has a warm Snowy Camp Site that will make your heart melt. This pet likes to build snow forts, go snow shoeing, make hot chocolate and eat Frozen Berrysicles! If you can handle the cold then you will get along very nicely with the Winter Fawn!
You may find this online-only, virtual, pet and many more at eStore!