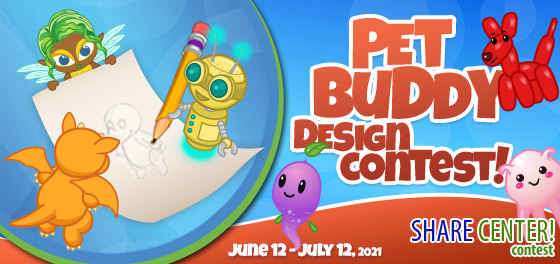 We're excited to announce a fun new Share Center contest! We want you to design a new Webkinz Classic Pet Buddy! It can be whatever you want – use your imagination!
Pet Buddy
One winner will have their design turned into a virtual Pet Buddy in Webkinz Classic which will be available at Ganz eStore in the autumn!
Pet Buddy
The grand prize winner will receive a Pet Design Trophy, the winning Pet Buddy, plus 3 months of Deluxe Membership. And all ten finalists will each receive a Summer Super Mystery Bag – courtesy of Ganz eStore!
Pet Buddy
Here's how it works:
1. Design a Pet Buddy.
2. Scan or take a photo of your design and save it as a JPG or PNG file.
3. Upload the file to the Pet Buddy 2021 Design Contest on the Share Center any time between June 12 and July 12, 2021.
4. Come back on July 17, 2021 to see if your pet buddies is one of ten finalists, and on July 31 to see the Grand Prize Winner!
See official rules here.