The Curly Lion at is August's Pet of the Month!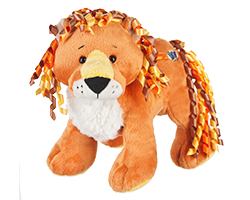 If you adopt a Curly Lion onto your account during the month of August, in addition to its adoption gifts, you'll get a loot bag filled with exciting prizes! And all Curly Lion owners will unlock bonus activities during the entire month!
Add a dose of fashion-forward style to your Webkinz family with the fabulous Curly Lion! With such a magnificent mane, this big cat loves accessorizing with fantastic clothes that they keep in their huge Majestic Wardrobe! But with such a busy style schedule, make sure they take a break to enjoy their most-loved food, some tasty Curly Fries!
ALL Pet of the Month Plush prices NOW INCLUDE applicable shipping charges.
And don't forget—you can get the plush and virtual version of the Curly Lion at the Ganz eStore!
Want to enhance the Pet of the Month experience?
Why not join the Webkinz Virtual Pet of the Month Club?
Click here to learn more about the Pet of the Month Club!
You may find this and much more at eStore!