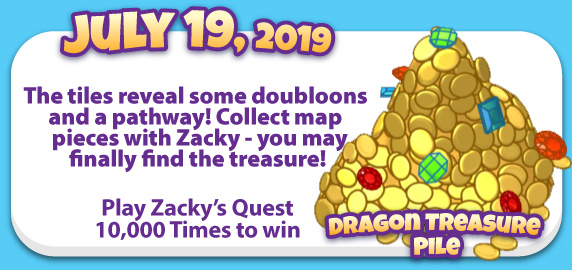 You did it! The Webkinz community played Tile Towers 7,500 times! Here is your code for a
Pirate Doubloon
W24G-ZZJH-ZSFR-2Q4Q
Enter this code in the Code Shop which can be accessed through the Things To Do menu on webkinz.com. See your new challenge for today above. Work together to complete this goal! Don't worry – if everyone works together, you should be able to reach this goal in no time!
Come back here tomorrow after 9:30am to find out if you completed the challenge and to get your next challenge. If you reach the goal, you'll receive a community code that can be entered at the Code Shop in Webkinz World!
Missed the previous days' codes? Find them here:
Adventurer's Canteen W248-66Z3-P977-M27A
Clam Shell W246-8BSB-F4SK-Q75U
Colorful Stones W24M-H7Z8-G5FV-WHRG
Code awards one item per Webkinz account and expires at midnight EST on September 30, 2019.