Happy Thursday and Happy Thanksgiving!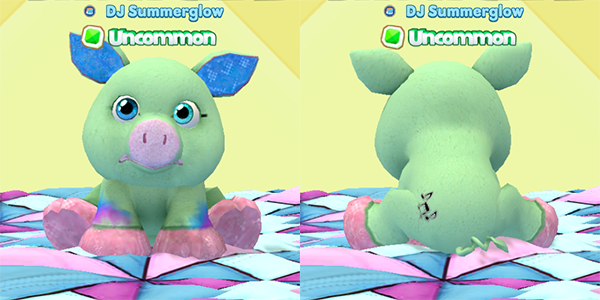 The first baby this week is this pretty piggie with a mint green body color and perfectly pink toes. The beautiful blue ears coordinate nicely with the two-toned eyes (husky somewhere!) and the rainbow flair on the legs. A lovely coordinated baby!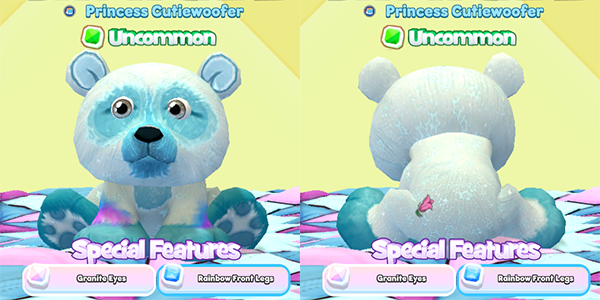 Next up is this unusual moon bear — while I've seen a white moon bear before, this is the first time I've seen one with such subtle back markings — the stars are quite beautiful and understated. The toe beans on the front pop with this color scheme and the rainbow flair is a nice little touch, too.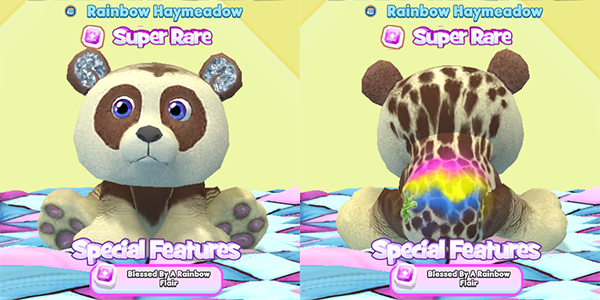 Love this soft colored panda! The hyena spots are pretty bold, especially with the rainbow back patch. These blue/purple eyes are intense, while the leg swirls are quite subtle. The pattern on the head is quite fun, too!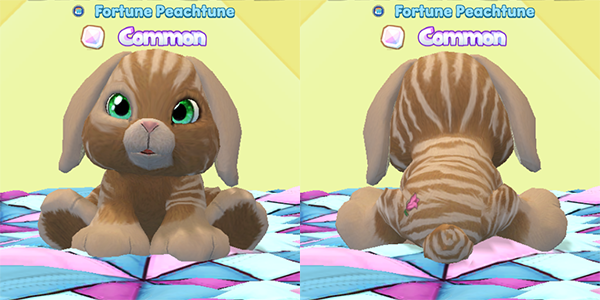 This may be a common bunny, but I just LOVE the combination of orange tabby stripes and orange tabby eyes with the brown body and bunny patches of the Holland Lop. This baby is adorable and I wish I had one like this, though not as much as I want my jackalope.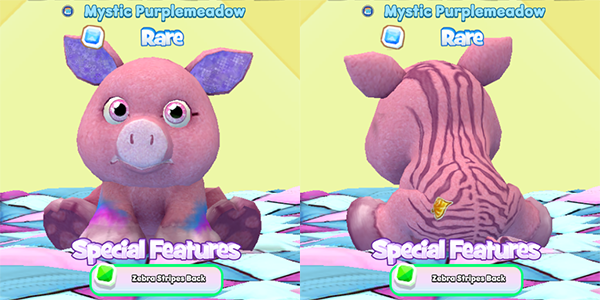 Another pretty piggie! This one has beautiful purple ears to go with the rainbow flair on the legs, and super fun zebra stripes. It's gold leaf patch is courtesy of a gorilla, and makes for a super cute baby!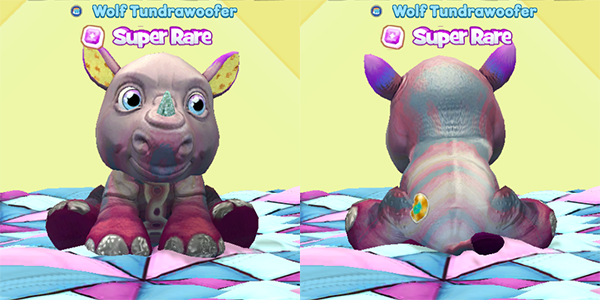 The last baby for today is this super adorable disco rhino baby. I love the opalescent body color and it's always fun to see the special giraffe ears on other pets. There's quite a bit of color between the eyes, the rhino horn, and the ear flair — very pretty!


I hope you'll pop by the Adoption Center tomorrow for our special edition frog spark party (part 2!), as I once again attempt to spark a frog with one of the new colors that were recently added. I'm sparking frog with frog, so if you have more frog names, feel free to leave them. (I wrote down the ones from last week!)


Download Webkinz Next now — available for iOS, MacOS, Android and Windows 10.