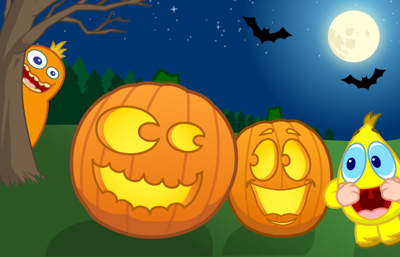 Have a Wacky Halloween with these awesome Jack-o-Lantern templates you can use to make your very own Zingoz and Zangoz Jack-o-Lanterns!
IMPORTANT: Always ask an adult for help whenever you are handling sharp objects.
Click on the templates below and select 'Print' or press Control P to print them.
How to use the templates:
1. Print the template. (if you want to make it bigger or smaller, you can use a photocopier or adjust the print size in your settings.)
2. Tape the template to the pumpkin.
3. Use a tack or pin to outline the faces by pricking small holes about an inch apart along the edges of the black areas.
4. Remove the paper and – with the help of an adult – cut out the face using the holes as your guide. Remember to refer back to your paper to make sure you are cutting out the right pieces.