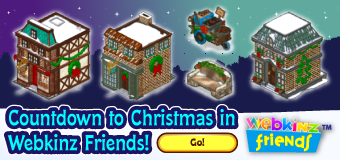 Coming Soon!
One of the best things about the holiday season is decorating! And what better way to bring the joy of Christmas to Webkinz Friends than with a special 12 Days of Christmas Challenge?
Here's how it works:
Build a Christmas Carol village in your Kinzville by earning and building all 7 holiday buildings! Build all 7 and you'll receive an exclusive Fine Chocolatier Shop to send back to Webkinz.com!
Keep watching for the 12 Days of Christmas Challenge icon to appear on your Map to get started!